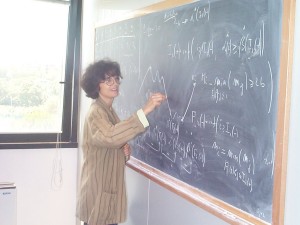 Enza Orlandi &nbsp &nbsp &nbsp home page.


Professor at the Mathematics Department, Universita' Roma Tre.
Main research interests: Statistical Mechanics, Phase Transition, Probability



Curriculum Vitae et Studiorum
Publications and other stuff
Some useful tools
mp_arc
Teaching duties :
Statistica (anno 2013-2014) (Geologia).
ST410 Statistica, Metodi Matematici e Statistici. (anno 2013-2014) (Matematica).




Office phone num. : (++39 06) 57338220 [U. Roma Tre]
(Math. Dept.) Fax : (++39 06) 57338072


Enza Orlandi
Dipartimento di Matematica, Universita' di Roma Tre
Largo S. Leonardo Murialdo 1, I-00146 Roma, ITALY
E-mail: orlandi@mat.uniroma3.it